The hair of 37 year old Mr. Affleck has been the subject of much debate for around a decade now.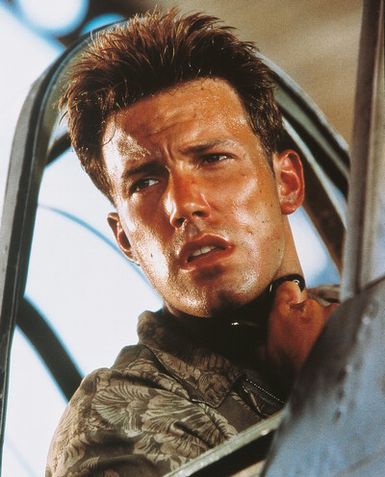 He has always had thick dark hair which can look a bit wig-like anyway.
The
Secretly Balding Moviestars
website has been around for as long as I can remember, and was where this infamous photo of his hairline first surfaced. It does look suspiciously like a hairpiece.
He had a strange haircut in Shakespeare in Love, and some people have used this as an example of his changing hairline. However, it seems obvious to me that his hair has purposefully been styled in this way for cinematic reasons and should therefore be discounted as evidence.
Internet folklore says that Vince Vaughan pulled off his hairpiece while horsing around at a party. I believe this rumour started on the imdb message board around 2002. He denied this on the Jay Leno show, and pulled at his hair as if to prove it were real. However, this would prove nothing as the bonding methods used in modern hairpieces are very strong and will withstand a lot of stress.
He has had a variety of different hairstyles over the years so I am not sure what to think. But more recently his hair has been quite short, and I'm not sure whether it is possible to get a hairpiece this length.
Anyway he now has a significant bald patch forming, as this candid photo from late 2008 shows. He also has very short hair exposing what appears to be his natural hairline.
But where has it gone? In this more recent picture, it is only ever so slightly visible. He has probably either used medication like propecia and minoxidil, covered it with a concealer like
Toppik
or Dermmatch, or most likely a combination of both.
The high resolution image below was taken at the premiere of 'He's just not that into you' in 2009. There is no sign of a lace wig mesh, and the photo is so detailed you can even see where individual hairs are growing from if you are that way inclined. Click
here
to see it in full detail.
My personal theory on Mr. Affleck is that he may have employed a hairpiece in the early 2000s for certain roles while taking treatments for hair loss. As those treatments started taking effect, his hair loss was stopped to the extent that a wig was no longer needed, and what you are seeing now is his natural hair.
Norwood Rating : 2